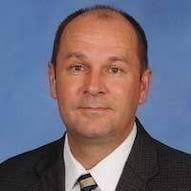 Lipscomb University head basketball coach Lennie Acuff will present at the 2021 MBCA Clinic at Mizzou Arena in Columbia, September 16 & 17.
With a 30-year storied coaching career, Acuff has established himself a proven winner and one of the best teachers in the game.

In his second season at the helm of the Bisons, Acuff and co. were tabbed preseason favorites by the league's head coaches with the likes of Ahsan Asadullah returning. In a year where nothing was normal, the purple and gold had their up and down moments. After winning the season opener against Lamar, the Bisons dropped five of their next six games. They then reeled off four straight dubs and got back above .500 with a 77-70 victory over reigning ASUN champion Liberty on New Year's Day. They then won three straight against Bellarmine and North Florida and guided their way to a 3rd-place finish in the league standings with a 9-6 record. After making the conference championship game the previous three years, Lipscomb's season was over in the first round of the tournament with a 72-60 loss to FGCU in Jacksonville.
In Acuff's first season in Nashville, his first coaching job at the Division I level, the Bisons had seven players, more than 7,700 career points and 3,000 career rebounds walk out the door prior to his arrival in 2019-20. Not only did he have to work eight first-year players into the roster, but there were only two guys on the team who had ever started a game.
But for a coach with more than 550 wins over his career, Acuff was ready for the challenge. He continued to tell anyone who would listen that 2019-20 would be a "jumping on point" for the program. Glancing back on his first D-I campaign, it sure looks like he was right. He pushed his team to its fullest potential and put the Bisons back in the ASUN Conference championship game for a third straight season.
He guided Lipscomb to a 16-16 overall record and coached a team picked fifth in the preseason to a third-place finish in the league (9-7) after winning eight of the final 10 games. The 16 wins were the most by a first-year head coach in Lipscomb's Division I era.
Acuff's creative game planning and offensive sets brought forth a different style of play Lipscomb fans had come accustomed to over the last few seasons. It enabled sophomore big man Ahsan Asadullah to post a season line that had only been accomplished once in Division I since 1992-93, averaging 18.6 ppg, 10.1 rpg and 3.9 apg. Former LSU star and current Philadelphia 76er point guard Ben Simmons was the only other player to achieve those numbers in 2015-16.
For his efforts, Asadullah was named First Team All-ASUN and First Team All-District by the National Association of Basketball Coaches (NABC).
The Bisons opened the Acuff era in convincing fashion with a 104-55 victory over Rhodes College inside Allen Arena on Nov. 5, 2019. It was the most points by a Lipscomb team since 2008.
Growing pains set in after that game, and the Bisons lost their next four games – three of which were two-possession contests. Back-to-back road wins at Navy (65-61) and Tennessee Tech (78-65) put the team back on track heading into Thanksgiving break. Road games at #23 Xavier, Belmont, Vermont and #8 Auburn helped prepare the Bisons for the conference season, where they went on the road and held off a pesky new-look Stetson squad 66-63 to give Acuff his first ASUN victory on January 2.
At the midway point of ASUN play, after an 85-73 win over then co-leader North Florida, the Bisons were 8-13 and sat in eighth place in the league standings. They then opened the month of February with a disappointing loss to Stetson and dropped to 3-6 in conference games. That game would end up being a turning point for the team.
Behind Asadullah, the Bisons reeled off six straight wins and finished the second half of league play 7-1, including a 77-71 win over regular season champion Liberty in the home finale, to enter postseason play as hot as any team in the ASUN.
The day he was snubbed for conference Player of the Year, Asadullah carried Lipscomb to a 68-63 victory over FGCU in the first round of the ASUN tournament after scoring a career-high 40 points and grabbing 14 rebounds. It was the most points ever scored by a Bison inside Allen Arena.
Playing in the program's sixth-straight conference semifinal, the Bisons went on the road and came away with a 73-71 upset win over No. 2 North Florida as senior Andrew Fleming sunk the game-winning floater with 3.1 seconds on the clock to send Lipscomb to the championship game. Asadullah scored 27 points and pulled down a career-high 19 rebounds in the win.
Three days later, in a game no one expected Lipscomb to be in, the Bisons battled top-seeded Liberty on national television and in front of a record-breaking crowd for the ASUN crown. A 19-point first-half deficit ended up being too much to overcome for Lipscomb and when the final horn sounded, it was the Flames who had taken a 73-57 victory.
Many might have worried where the program would go after a two-year run that saw 52 wins, its first NCAA Tournament appearance and a charge to the NIT championship game. But if 2019-20 is a glimpse of where Acuff has this program headed, you better jump on and buckle up.
Prior to arriving in Nashville, Acuff spent the previous 22 seasons at the helm of the University of Alabama in Huntsville, where he built the Chargers program into a national power with a 437-214 overall record.
Under Acuff, UAH won eight regular season and three Gulf South Conference tournament championships and earned 11 trips to the NCAA-DII tournament, including two trips to the Elite Eight after winning the NCAA-DII South Regional in 2011 and 2012.
During that time UAH was ranked in the national polls for 44 consecutive weeks including a No. 2 ranking to end the 2011-12 season. The team's achievements were also recognized on a national level as Acuff's team was the first Division II program invited to play in the NIT Season Tip-Off in 2012, and the Chargers defeated North Texas in the opening round of the prestigious event.
Acuff has been named the NABC District Coach of the Year four times (2000, 2011, 2012, and 2013) and has been honored as the GSC Coach of the Year a conference-record eight times (1999, 2003, 2005, 2010, 2011, 2012, 2015, and 2016). Highly respected by his peers in the collegiate coaching ranks, Acuff is one of just two NCAA-DII coaches to serve on the National Association of Basketball Coaches Board of Directors. And among all of the accolades and achievements, perhaps most impressively, Acuff has done that by recruiting student athletes to an academic institution with high expectations of all its students and an average incoming freshman ACT of 28.
Prior to his tenure at UAH, Acuff was head coach at Berry College in Rome, Georgia for four seasons, where he established it as one of the premier NAIA programs. At the age of 25, Acuff began his coaching career at Belhaven College in Jackson, Mississippi, and was the youngest head coach at a four-year college in the United States at the time.