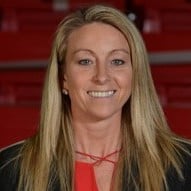 Amy Eagan enhances an outstanding MBCA Clinic lineup. Eagan has served as a valuable part of the Drury coaching staff that has established one of the top programs in Division II basketball.
She was named head coach of the Drury Lady Panthers on April 13, 2020 following the departure of Molly Miller to Grand Canyon University. Eagan served the 2019-20 season as an assistant coach with the program and helped Drury to a 32-0, a 20-0 mark in the Great Lakes Valley Conference, a GLVC tournament championship, and the team was ranked number one nationally from the preseason poll to the final ranking of the year in NCAA-II.

Eagan came to Drury after a successful tenure as the head coach at Truman State. In six seasons with the Bulldogs, she became the program's all-time leader in career coaching wins and winning percentage posting a mark of 111-62 (.642). In her final season as head coach at Truman State in 2018-19, she led the Bulldogs to a 23-8 record, a 13-5 record in the GLVC, and an NCAA-II tournament appearance. It was the best finish in the program's 46-year history. In 2014, Eagan guided Truman State to a GLVC championship as the team went 22-9, 12-6 in the league, and then took the Lady Panthers to overtime in the opening round of the NCAA-II tournament on Drury's floor.

Prior to this season, Truman State has had five 20-win seasons, and Eagan was the head coach for three of them during her six-year tenure and was part of another one as a player. She has coached 10 all-conference performers with four named to the First Team, recruited two Freshman of the Year selections (Katie Jaseckas in 2018, and Hannah Belanger in 2020), and coached three All-GLVC Tournament picks, including Tournament MVP Bianca Szafarowicz in 2014.

Her teams also posted a 100 percent graduation rate, a 3.4-grade point average as a team, produced 17 All-Academic performers in the GLVC, and the 2014 Truman State Student-Athlete of the Year.

The 2020-21 season will be Eagan's 12th as a collegiate head coach. She owns a career record of 187-142 (.568) and she has been 68-40 (.630) within the GLVC during her tenure at Truman State.

Before her return to Truman State as a head coach, Eagan led the women's basketball program at Ashford University in Iowa from 2010-2013 and helped turn around an NAIA program that won only four games in her first season, to a near-.500 record of 14-17 just two years later.

As head coach at Saint Ambrose (Iowa) from 2005-07, she put together a 48-17 record in two seasons, and was named the Midwest Collegiate Conference Coach of the Year in 2007 as her team went 26-7, 14-0 in league play, and advanced to the NAIA-II tournament.

Eagan worked as an assistant coach at Quincy University from 2001-05 and helped the Hawks to a 96-32 record over four seasons. During her time on the Quincy bench, the team made three trips to the NCAA-II tournament, back-to-back GLVC championships in 2004 and 2005, and an Elite Eight appearance in 2004.

In addition to her accomplishments as a coach, Eagan also had a stellar playing career at Truman State. She was a four-time selection to the All-Mid-America Intercollegiate Athletics Association team and still ranks fourth on the Bulldogs all-time scoring list with 1,527 points. Eagan is the program's career leader in assists (529), steals (328), steals per game (3.3), free throws made (483), and free throws attempted (704). She set Truman State's single-game scoring record with 46 points against Southern Indiana during the 1998-99 season and was named an honorable mention All-American year. After graduating from Truman State, Eagan embarked on a professional playing career in Norway and was inducted into the Truman State Hall of Fame in 2012.

As a high school player, Eagan was a standout at South Shelby High School in northeast Missouri and was voted to the All-State team in Class 2.

She earned a degree in Exercise Science from Truman State in 2001 and a Master's Degree in Organizational Management from Ashford University in 2012.

Amy Eagan is the fifth head coach in program history at Drury.