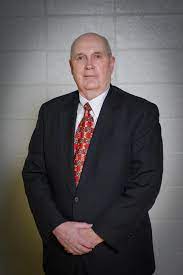 MBCA executive director Denny Hunt will be among an outstanding group of inductees to enter the Missouri Sports Hall of Fame on December 14 at the Oasis Hotel & Convention Center in Springfield at 11 am in the annual Basketball Luncheon.
Hunt is now in his 47th season as a basketball coach, with 40 at the high school level. A 1969 graduate of Summersville High School and 1974 graduate of Missouri State University, he has been a head coach of boys teams at Fair Play, Hartville, Republic, Buffalo, Central, Springfield Catholic and Crane. He also was an assistant coach at Kickapoo for 10 seasons, and a Kickapoo girls varsity assistant for the late Stephanie Phillips (MSHOF 2011). In all, he has been part of five Final Four boys teams – 1987 Hartville (Class 2 state runner-up), Kickapoo's 2003 and 2006 Class 5 state champions and its 2005 state third-place team, and 2019 Springfield Catholic (Class 3 state runner-up). At Hartville, Hunt's teams were 153-84 over 10 seasons. He also was an assistant coach at NCAA Division II's Drury and Southwest Baptist universities for a combined seven seasons. Since 2011, he has been the Executive Director of the Missouri Basketball Coaches Association, earning its Gary Filbert Lifetime Achievement Award in 2012 and induction in 2015. Additionally, he directs the Norm Stewart Classic, and in 2021 was honored by the National High School Basketball Coaches Association with the Court of Honors.
The event also features William Fontleroy, a standout guard on Missouri State's 1999 Sweet Sixteen Team, as well as Jimmy Wright – a member of basketball table crews for MSU, the Blue & Gold Tournament and the Bass Pro Tournament of Champions – along with Southern Boone prolific scorer Joyce Arnsmeyer Gillespie, the Walnut Grove Girls Basketball Program, Evangel University's 2002 Men's National Championship Team, the Lockwood Tigers Boys Final Four Teams of 1993-1996and the undefeated Drexel High School Girls 1996 State Championship Team. Additionally, recently retired Evangel men's basketball coach Steve Jenkins will be bestowed the Pinnacle Award for his lifetime of service.
Additionally, the Hall of Fame will recognize the Filbert Five Awards, a group of former high school and college standouts who made positive impacts on the game. The awards are named in honor of Gary Filbert, a Missouri Sports Legend (2011) who was a successful basketball coach before assisting legendary Missouri Tigers coach Norm Stewart and then founding the Show-Me State Games.
The Filbert Five women's team is: Kyndal Clark (Branson High School/Webb City High School/Drake University), Kelsie Cleeton (Hillcrest High School/College of the Ozarks), Hannah Cook (Ozark High School/University of Alabama), Marla Douglass (Mountain Grove High School/Oklahoma State University/Missouri State University), and Katie Gariss Marsh (College Heights Christian High School/Missouri Southern State University).
The Filbert Five men's team is: Anthony Shavies (Missouri State University), the Shultz Brothers – Roland Shultz (Glendale High School/Drury University) and Tom Shultz (Glendale High School/Vanderbilt University), plus Zach Towe (Nixa High School/Central Methodist University), Joe Wright (Carthage High School/State Fair Community College/Kansas State University), and Nick Yocum (Republic High School/Drury University/Evangel University).
For additional information on this event please visit:
http://mosportshalloffame.com/honorees-announced-for-basketball-luncheon-presented-by-usa-mortgage-kitrel-region/