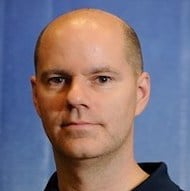 The MBCA is proud to feature Chris Oliver, the founder of Basketball Immersion in the 2021Coaches Clinic at Mizzou Arena, September 16 & 17.
As an expert in basketball decision training, he coaches, trains, and mentors' coaches to maximize their players' potential and enjoyment of practices and games. What he is most passionate about in his work is sharing evidence-based coaching ideas that can stimulate your coaching to get better results. The goal is to improve your players' retention and transfer of the things you teach to their performance. Oliver teachings include concepts such as messy learning, constraints-based coaching, maximizing active learning time, as well as adding decision-making to drills.
After coaching for over 23 years, completing his Master's degree, travelling the world to watch NCAA, NBA, and Pro teams from around the world, Chris saw the need for more education on a games approach to coaching basketball and training methods to support this. He created Basketball Decision Training (BDT) to bridge the gap between skill development and game applications of those skills.
Most recently Chris was head coach at the University of Windsor where he won over 300 games and compiled a .750 winning percentage. Oliver also coached a Canadian team of professional players to the prestigious Jones Cup international basketball tournament championship, winning gold in 2018. In addition, he has consulted for NBA, NCAA, high school, and club basketball organizations around the world.
Chris also shares his games approach to coaching, practical evidence-based drills, and decision training concepts openly through in-person and online learning. All these concepts have been taught globally through online sharing, camps, clinics, private mentoring and consulting with individual coaching and teams' staffs.
ntent here…